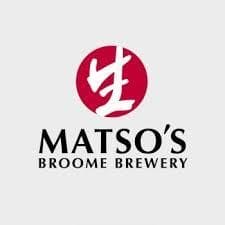 The Peirson-Jones family are delighted to announce that we have agreed to sell Matso's Broome Brewery (Matso's) to Gage Roads Brewing Co (ASX:GRB), one of Australia's leading independent craft brewers.
The agreement will see the Matso's range become an integral part of Gage Roads' portfolio of well-known craft beers and ciders.
Ever since we purchased the Broome brewpub site back in 2000 it's been a whirlwind journey with a lot of people involved in taking the Matso's brand to market. As a family we could not be prouder of the success Matso's has enjoyed as a result of many years of hard work. Taking the business from such humble beginnings with a 200L extract brewhouse in one of Australia's most remote breweries in Broome, WA to an Australian category leading brand has been a challenging yet incredibly rewarding experience for the family. GRB is a company that is experiencing a new-found growth through their "returning to craft" strategy. This strategy has seen the company succeeding with several recent achievements, including securing the beer pouring rights at the new Optus Stadium in Perth.
The family had several approaches over the years however the long-standing and mutually beneficial relationship we have had with GRB and its management for over 10 years cemented home to us that they were best placed to take Matso's on the next leg of the journey, so we are passing the Matso's "baton" onto them.
Our family will continue to own and operate the Matso's brewpub in Broome through a licencing agreement for the foreseeable future and we will, because of the performance conditions of this transaction, ultimately become shareholders in GRB.
Gage Roads Managing Director John Hoedemaker said Matso's is an iconic WA Brand that was a natural fit for Gage Roads. "We have a long-standing relationship with the Peirson-Jones family having provided brewing and packaging services for Matso's since 2007". "We're therefore delighted to reach an agreement that will see Matso's join the Gage Roads family", John said.
"We're looking forward to adding Matso's to our portfolio and broadening our offering of high quality brands to our customers. The Peirson-Jones family has achieved terrific results with Matso's, including having created Australia's market leading Ginger Beer. We now have an exciting opportunity to position the brand or further growth through our national sales team."
The success of Matso's simply would not have been possible without the many employees who have worked for the brand. Collectively the family wishes to thank from the bottom of our hearts the contribution of each and every employee (past and present) as Matso's would not have been the same without your input.
Matso's in many ways shares so much with GRB already and the family are proud that GRB will drive the next stage in the continued Matso's success story with our ongoing support as we operate the brewpub in Broome.
Customers should still continue to place product orders in their usual manner it is business as usual at Matso's. Thank you all for past and ongoing support to the Matso's brand.